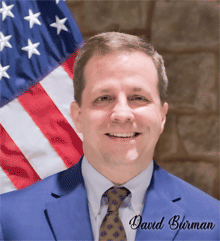 Accepting the position of Township Manager in a full-service municipality like Haverford is an exciting opportunity for any municipal manager. Haverford provides top-notch public services, outstanding parks & recreation facilities and programs, a well-training and equipped police department, and solid administration and financial management. The Board of Commissioners and former Township Manager Larry Gentile have established an organization that is the envy of many municipal operations throughout this region, and beyond.
There will be challenges along the way, and I am confident that my experience will help us work through them. I come to Haverford with nearly twenty years of professional growth in the public sector, including more than ten years in the field of municipal management. I offer a solid background in government finance and hands-on experience as a township manager, having served communities in Montgomery and Chester Counties. I hold both a bachelor's degree and a master's degree from Temple University and I am committed to the principles of community service, professional local government management, and the highest standards of integrity. Most importantly, I truly care about people -- about the residents I serve, the businesses and visitors to our community, the Commissioners, and my coworkers.
Spring has been called the "Season of New Beginnings," so it is fitting that I come to Haverford at this time of year. I am fortunate to be joining a well-oiled machine, with an opportunity to make improvements, where necessary. I look forward with excitement to becoming a part of this great community. It will be my mission, and that of the entire organization, to continue providing the level of service you are accustomed to receiving, and to protecting the health, safety, and welfare of Haverford Township.
Respectfully,
David R. Burman
Township Manager
Haverford Township Organizational Chart
Open Records
Township Department Directory